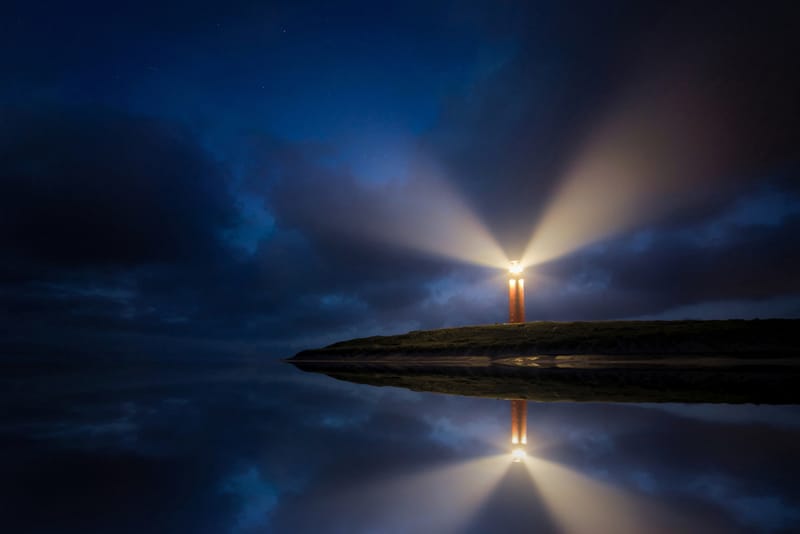 "A disturbing trend has developed in which foreign intelligence services, non-state actors, and criminals are using intelligence collection techniques against American companies to steal valuable trade secrets and assets… According to the FBI, the cost to U.S. industry is tens of billions of dollars each year."
- Office of the National Counterintelligence Executive
Threat intelligence is a critical foundation for strategic business decisions, effective enterprise risk management and mitigating business risk. In order to protect corporate assets, experienced threat intelligence professionals are necessary to provide valuable insight to proactively identify and prevent threats. These activities lead to enhancing the overall security and well-being of all organizations. The challenge is that qualified threat intelligence professionals are difficult to find.
The Center for Threat Intelligence's Certified Threat Intelligence Professional (CTIP) was created to address this challenge. The certification program was developed in collaboration with highly experienced intelligence experts with military, federal and corporate intelligence backgrounds. While cyber-attacks are the most publicized, threats by sophisticated adversaries incorporate many different domains including cyber, physical, human and technical, often in combination. The certification is a multi-level program to develop the tradecraft of intelligence to address the complex attacks of today's threat landscape.
We are honored to be an education and training provider for the Department of Homeland Security's National Initiative for Cybersecurity Education (NICE) Cybersecurity Workforce Framework (NICE Framework), published by the National Institute of Standards and Technology (NIST) in NIST Special Publication 800-181.
Why become a Certified Threat Intelligence Professional?
Threat intelligence includes a number of security disciplines which includes cyber, physical, human and technical domains. Too often the term 'threat intelligence' is siloed into specific threat domains when, in fact, sophisticated attacks incorporate multiple disciplines simultaneously to achieve their goal. The Certified Threat Intelligence Professional program benefits you by:
Enhancing your career: This certification provides the necessary knowledge to start a career as a threat intelligence specialist and enhance your current skills. This may assist in current and future employment opportunities.
Expand your skills and knowledge: Take on added responsibilities and gain additional respect with from clients, peers and employers.
Become a part of a unique and highly respected intelligence community
Meet Intelligence Experts- they are your instructors: Our instructors have years of threat intelligence experience in military, federal agencies and corporate environments. They have faced the challenges and have developed insight, tactics and strategies to address them. They understand the skills need to do the job; this ensures the content prepares you for what is needed in the market.
Who should become certified?Security Professionals:
Enhance skills to understand adversarial focus, apply threat intelligence practices to current and future roles, understand how critical thinking enhances analysis, improve structured analytic techniques and sensemaking skills.
Attorneys:
Establish knowledge and understanding of how threat intelligence can enhance legal activities, such as investigation and your clients.
Managers and Executives:
Understand threat environments to prioritize and address risk. Helps communication with threat intelligence analysts to ensure communication is open and effective when communicating needs.
Risk, Compliance and Human Resource Professionals:
Understand and prioritize insider threats and enhance knowledge of potential risks before they happen.
Federal Agents and Law Enforcement:
Master threat intelligence techniques for advanced investigations improving job skills.
Students: Start a career as a Certified Threat Intelligence Professional.
Certificate and Certification programs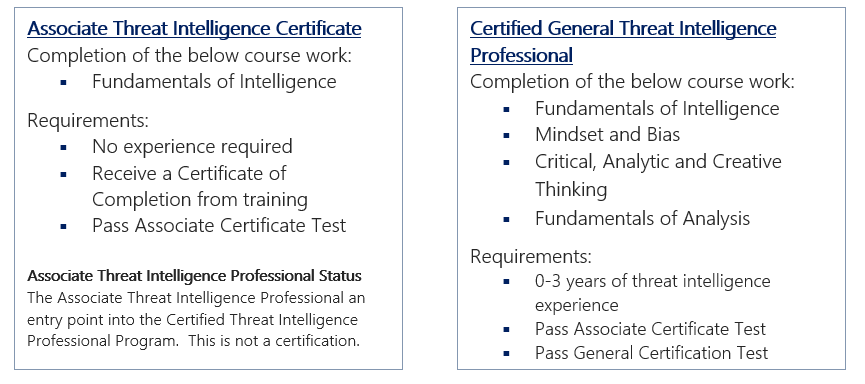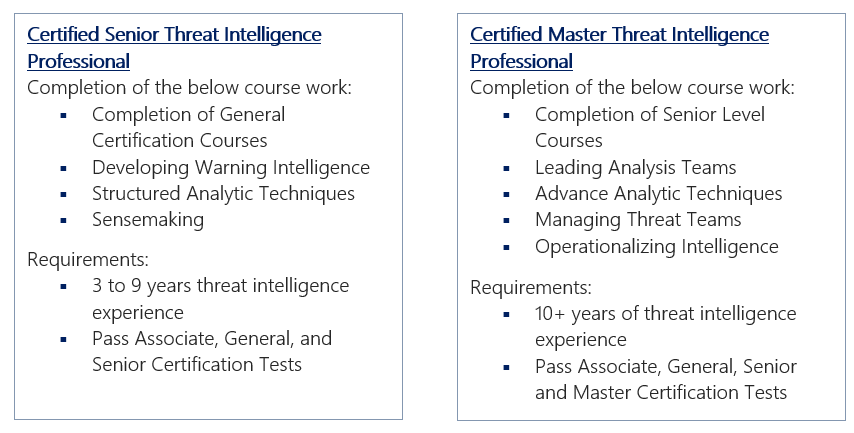 Eligibility Criteria
There are two options for a candidate to be eligible for the CTIP examinations. The candidate must either:
1. Attend official Center for Threat Intelligence's CTIP course(s).
All candidates are required to pay the $150.00 application fee.
The application fee is non-refundable.
2. Challenge the exam by submit an application showing a minimum of required years and/or working experience (determined by level of certification) in threat intelligence*.
All candidates are required to pay the $150.00 application fee.
The application fee is non-refundable.
*Threat intelligence experience includes, but is not limited to:
Intelligence analyst
Military experience in intelligence
Federal agency or law enforcement in intelligence services